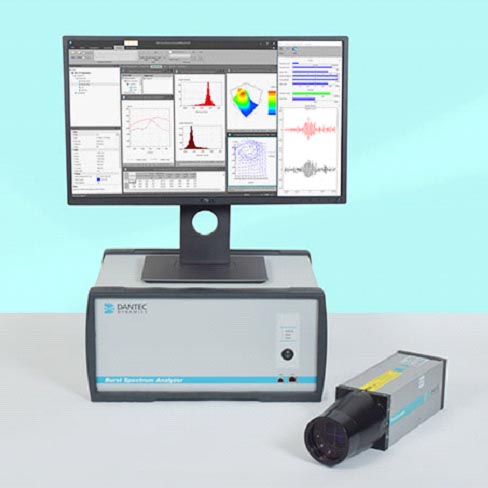 The FlexLDA system is a full-featured turnkey solution for working distances up to 500 mm and velocities up to 68 m/s. It uses compact lasers and Bragg cells integrated into the stable and robust design. The system is very easy to set up due to the factory aligned and calibrated optics. Signal processing is done by the well proven BSA (Burst Spectrum Analyzer) using robust real time FFT (Fast Fourier Transform) processing. The calibration data are loaded into the BSA Flow software package providing the most accurate results directly in velocity units (m/s or ft/s).
Key features:
⦁ Factory aligned and turnkey operation for fast setup
⦁ Calibrated to 0.11% uncertainty
⦁ 1 and 2 velocity component configurations
⦁ Measurement distances from 300 mm to 500 mm
⦁ Robust real-time FFT signal processing
⦁ On-line end-results thanks to real-time processing
⦁ Extensive graphics and data exchange features
⦁ Real-time display of signals, validation and data rate
⦁ Wi-Fi, LAN or USB connection to PC
---
FlexPDA
The FlexPDA system is designed to deliver a complete entry-level PDA/LDA platform for particle size and velocity measurement. The system can be configured for 1D or 2D velocity measurements, and integrated with a 1D, 2D, or 3D traversing units for spatial mapping.
PDA (Particle Dynamics Analyzer) – also known as PDPA (Phase Doppler Particle Analyzer) and PDI (Phase Doppler Interferometer) – is a well-established technique for the simultaneous measurement of particle size and velocity. PDA works as an extension to Laser Doppler Anemometry (LDA), both are optical techniques ideal for non-intrusive point measurement in a wide range of fluid dynamics applications.
The FlexPDA solution inherits the best of PDA and LDA technology, resulting in a compact best-value system for simultaneous particle size and velocity measurement applications.
Key benefits
⦁ Factory aligned transmitter optics
⦁ Receiving probe with optical fibers for maximum flexibility
⦁ Wide particle size measurement range, from 1—500 µm
⦁ State-of-art signal processor to handle the most demanding applications
⦁ Advanced, flexible, and feature rich software platform with a user-friendly interface
⦁ Automatic phase calibration for accurate size measurements
⦁ Attachment rail and mounting mechanisms for alignment in any PDA application
⦁ Possibility to work completely as a standalone LDA system in backscattering mode
⦁ Upgradable to other solution
Laser Doppler Anemometer (LDA) and Particle Dynamics Analyzer (PDA)