Värähtelyn etämittausratkaisu pitkille välimatkoille
VibroFlex Rangen ominaisuuksia:
Värähtelyjen mittaus jopa >300 metrin päästä
Mittaus onnistuu kaikilta pinnoilta, myös ruosteisista tai likaisista kohteista
Helppo asentaa ja käyttää
VibroFlex Range on kenttäkäyttöön soveltuva pitkän kantaman värähtelymittausratkaisu. Se kykenee mittaamaan korkealla tarkkuudella rakenteiden siirtymää, nopeutta ja kiihtyvyyttä myös haastavissa ulko-olosuhteissa, kuten sateessa tai sumussa. VibroFlex Range säästää aikaa perinteisiin kosketusantureihin verrattuna, sillä sen avulla voidaan nopeasti analysoida alle mikrometrin tarkkuudella haluttua kohdetta useissa paikoissa sijaitsevista mittauspisteistä.
Sovellusesimerkkejä:
Sillat, rakennukset, tukirakenteet
Putkien vuodot
Kuumat kohteet kuten uunit tai putkistot
Vaarallisten alueiden mittaaminen (esim. räjähdysvaara, korkeat jännitteet, korkeat lämpötilat)
Voit olla meihin yhteydessä lisätietoja varten!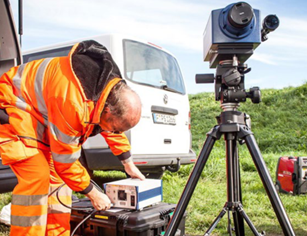 Remote detection of vibrations from distance structures
Highlights:
Remote vibrations analysis > 300 m
Measures on all surface, even corroded and dirty structures
Easy to setup and use, just point and measure
VibroFlex Range is outdoor-proof long-range vibration measurement solution designed for remote analysis of vibrating structures from more than 300 m. It is high-resolution solution capable to measure displacement, velocity and acceleration even under challenging conditions like at rain or fog. FibroFlex Range represents a versatile alternative to contact sensors, especially as it saves time by quickly analyzing multiple measurement points and collecting submicron displacement information even from large distances.
Applications examples:
Bridges, buildings and support structures
In-service tubes and pipes for leaks
Furnace structures, piping or other hot objects
Machinery and industrial installations in danger zones (explosive risk, high voltage, high temperature
For more information please contact us!